Well the conference finals has begun. The NBA's final four with a best of 7 series. Most years conference final games are more entertaining. I mean getting to the championship is a big accomplishment for any team. Everyone wants a shot at the title. This is the time where heart and leadership over powers talent. The most important guy on the court doesn't have to drop 30 a game, he might be the guy who's guarding the lead scorer from the other team. All the little things like rebounding, free throws, and bench contributions get magnified as game deciders. Who will win it all?
The Lakers? last year's champions with the best player and coach of the last decade of basketball. The Suns? if you read last journal you know who the underdog is by now. The Celtics? the champions from 08' who are now healthy and just finished beating the "best team" in the NBA regular season. The Magic? the only undefeated team heading to the conference finals.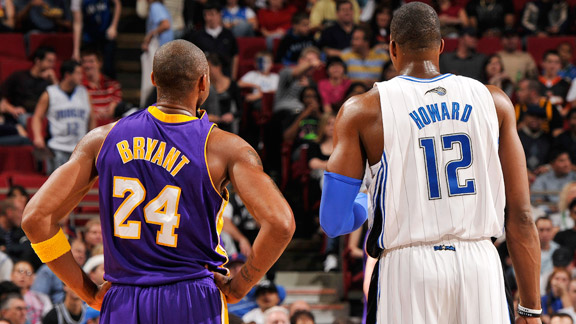 Well you would think the Lakers vs. Magic rematch would be easy bet for this year's finals. Wrong. After losing 2 major games on their home floor, they're on the verge of being swept. Irony? Nope. Reality. Let's face it, who have the Magics beat in the 1st two rounds. The Bobcats, a good team with no superstars or experience. The Hawks, a big disappointment who let the Bucks take them to Game 7 without their best player (if Andrew Bogut was healthy the Bucks would've took the Magic to 7 IMO).
Where is the Magic? Has reality set in? Well I don't think it's technically the Magics fault. Boston is just that good. Seriously, Garnett was hurt last year which gave Rashard Lewis room to dominate. This year Garnett is healthy and as for Lewis, a non factor in Game 1 and 2. Sure they got Vince Carter now and Jameer Nelson is healthy but Paul Pierce and Rajon Rondo are right there with them. Which leaves us with their leader, Dwight Howard. The best center in the NBA. Game 1 he was shutdown by 1 on 1 defense. He made up for it in Game 2 but the team still fell short of a victory. This only proves that the Celtics are the best team in the east. As for the Magic, how will you recover? How are you gonna steal a game in Boston, one of the roughest places to play at during the playoffs? Someone needs to step up and take charge with urgency. Only the strong survive. It's do or die. Do you believe in Magic?